MAY 2013
ATHENA - the Smart One Who Never Got The Guys Until She Got Contacts (March 21-April 19)
Stand your ground and don't let anyone push you around this month.  It's your turn to get a seat on the subway so don't let old ladies and small children intimidate you.  They aren't as tough as they seem, at least above 14th street.
JUNO - the One Who Says She's Happily Married (April 20-May 20) Partners and colleagues may get on your nerves between May 3rd and May 15th.  Wait until mid-May before you say something you might regret.  Prior to the 16th anything you say can and will be used against you, particularly by that bitch at reception.
By Deb Victoroff
Dear Readers: It is our 13th Anniversary! Those of us at HWHQ who still have our faculties took a little trip down memory lane. The laughs! The tears! The nips! The tucks! We went back to the archives and here is some material that appeared at the start when we were young and not quite as bitter! Enjoy!

Ask Audra
Dear Audra
I recently watched the Lifetime Television for Women original movie, Innocence Lost: Every Woman's Nightmare in which Jacklyn Smith discovers her best friend and husband are sleeping together. All I have to say is Thank You, Thank You, Thank You!! I had no idea that backstabbing, husband-stealing best
friends were so common, let alone "every woman's nightmare". As a result of your broadcast, I have severed all ties with Patricia, my best friend of twenty-seven years, hired a private detective and purchased a wig in the event I have to escape into the night. In addition, I periodically wake my husband from a dead sleep by whispering "Patricia... Patricia..." over and over while stroking his penis with a carving knife.
Signed, Eyes Wide Open in Cleveland
By Roy Hall
I used to be a real horror to live with. I nagged, and pestered Walter constantly trying to get him to pick up after himself, to get a job, or even just to acknowledge me when I spoke to him. But nothing seemed to work. Instead he just spent more time in front of the TV, drinking beer and polishing his guns.
I was getting more and more unhappy. My mother tried to console me by saying that at least he didn't cheat on me, but it only brought tears to my eyes. I yelled at myself for not being Christian enough to forget about those flings with the Hooter girls.
I turned to our priest, who said I should be more womanly and generous, so, I volunteered at the local old age home. Sure it was nice getting out of the house, and I managed to earn a bit of money beating the residents at poker, but I still didn't feel better.
It got so bad that I thought of leaving him, but thankfully my mother reminded me that no man is going to want a used woman. Heavens, I can only imagine what trouble I could have gotten myself into. Plus, I had the children to think about, too.
By Irene Duma
June 4 Well, he hasn't called but I'm pretty sure the construction on the street has knocked the phone lines out.
Also, I blow dried my hair at noon.
June 7 Got a hang-up call today. I was pretty sure it was him and phoned him back. He claimed he didn't call, but it's hardly the kind of thing you're going to admit to is it? I must have awakened him because he didn't recognize my voice, or for that matter, my name. I told him I had free tickets to The Lion King on Saturday and he said he'd get back to me.
June 8 Ticketmaster rejected my Visa, so I have to bring down a certified cheque for $150.00. Wow, do all shows cost that much or just the ones with animals? My Mom is pretty pissed at me for canceling out on my brother's wedding Saturday, but it's not as if I'm in the wedding party or anything, and it is his second wedding. I'll be at the church.
What do you wear to a show like that?
By Sharon Grehan-Howes
ROCK A BYE-BYE
Dear Savannah,
I want to start having affairs with women that don't mind the fact that I'm married. Maybe they're married, maybe they're just bored. Where is this pool of females located? We could talk forever about my marital situation, but for right now i'd like to get going on this. Thank you.
Sincerely,
Befuddled
SAVANNAH SAYS:
My, my. So many things have happened during my little flight from justi...er, hiatus, that I don't know where to begin. Should I tell you about the frightful nail fungus I endured after a manicure gone bad in Belize? Or perhaps I should fill you in on the horrifying episode involving a vacuum cleaner, a late-night pillow fight, and a group of drunken Bolivian midgets.
But, no, I really should begin with Rothrock. My dear, beloved, and now late Rothrock.
Experience has taught me life only allows a person so many "if only"s. Unfortunately, Rock reached his quota on a warm January evening at a cattle ranch in Argentina.
If only he hadn't chosen to wear that fuchsia silk shirt.
If only he hadn't laid out our picnic in a grassy field that, unbeknownst to us, contained a number of prize bulls grazing just on the other side of the ridge.
If only he hadn't sat on the fire ant nest.
By Elizabeth Hanes

Do it Yourself! Paint Can Personal Photo Hats!!
This season, paint is rolling off the walls and onto the runway as fashionable femmes flip their lids for Paint Can Personal Photo Hats!!
Dre Coison, fashion arbiter and bonzai breeder predicts"What the Mao Cadet Cap is to people with elegant pointy pin heads, la peinture peut des chapeaux will be to people with massive clunky potato heads. It's all about proportion and distraction"
These beautiful buckets are selling in Paris boutiques for beaucoup bucks but we, your slim and lovely friends at HW have created a step by step guide so that our large-headed lovelies can be strutting in style in no time!
By Sharon Grehan-Howes
LAST ISSUE
What Did She Say?
A Parent's Interpretation Manual for Teacher Conferences
So you just got the notice from school. Granted, it was at the absolute bottom of the
book bag, torn, ragged and rancid with the remnants of last Thursday's peanut butter and jelly. But at least you found it while there's still time to make the appointment.
It's time to face the music now, to brace yourself for what is benignly referred to as a "Parent-Teacher Conference", but will undoubtedly be 15 minutes of gut-wrenching hell. Your adorable little angel is about to be defamed and verbally stripped bare of all endearing traits by an underpaid state employee who can't "do", and therefore "teaches".
By Kelly Gibbs
The nasty truth behind the mantra

Maria Glover donned her red satin cape, applied two coats of Chanel  Rouge Coco
lipstick, kissed her husband and jumped off the roof of her 70 story apartment  building.
She survived the fall but the sudden stop at the bottom killed her.

Juice Watson sold her beautiful 3-bedroom house in the affluent Forest Glow neighbourhood and bought stocks with the proceeds. The stock went bust and now Juice lives in a Frigidaire box under a bridge by the river.

Daniel Mitchell sang "Memory" from the musical Cats while performing a Japanese tea ceremony at a school assembly. He was jeered and booed offstage and was hit by three cars on the way home.
By Sharon Grehan-Howes
Are You in Labour? Take Our Quiz
You've suffered through nine months of vomiting, binge eating and crying jags. Now, with your belly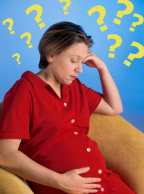 as big as a barn, you just want to get this pregnancy over with. At last, you feel a cramp and rush to the hospital only to find out you've been fooled by "false labour." So how can you tell when those abdominal pains are the real deal?

First, disregard all that scientific mumbo-jumbo about "dilation" and "mucous quality." That hocus-pocus is a source of much misinformation in the world of feminine medical care. The fact is, certain events can accurately predict the onset of true labour. Take our quiz and tally your score to see how close you are to making that "special delivery."
1. Is your husband away on a "quick" business trip?

___ Yes (8 points)
___ No (-1 point)

2. Did you decide to take a relaxing drive in the country and now find yourself stranded on the side of the road with a flat tire?

___ Yes ( 9 points. Add 1 point if your cell phone battery is dead.)
___ No (-6 points)
By Elizabeth Hanes
Week after week, millions of ordinary woman face - and lose - the challenge of making family meals humdingers instead of humdrum. This dilemma was the inspiration behind my newest contribution to your Almost Homemade Life®: the 7 Day Almost Homemade® Meal Planner.
Appearing every seven days, this patented system is available exclusively to readers of my Almost Homemade® Magazine, viewers of my syndicated television show Almost Homemade® Cooking, and registered subscribers to www.almosthomemade.com.
The 7 Day Almost Homemade® Meal Planner answers the age old question of what's for dinner by providing pre-planned gourmet menus, complete with recipes and shopping lists, allowing you to focus on more important things in life, such as the cute Cabana boy at the club, or that new tennis instructor.
By SB Shoemaker
LAST ISSUE
11/30/12: OMG! The moment has come that everyone in the world was waiting for –
I am having a baby! Kanye, too, I guess. Forget Brangelina and their stupid brats; this is the kid EVERYONE  was waiting for. This is so perfect. I am going to get so many amazing endorsements, plus major cash from the tabloids. I just hope Baby K doesn't get more attention than I do. Ever since Kourtney's kids were born, it's like she thinks everything they do is more important than me. I hope I don't get like that with Baby K—I mean, everyone knows that I'm the one who's most important!

12/1/12: Mom is already secretly plotting to take Baby K and pass her off as her own daughter. One of my bodyguards, who I hired to keep tabs on Mom, overheard her talking to her lawyer during one of her snake venom facials. Apparently, she's planning to either draw up papers to demand full custody or just kidnap the kid outright. She so needs to get her own baby.


MORE
By Melissa Larson
Chances are if you need to take a quiz you're not, but you may surprise yourself!
Answer true or false to the following:
Even if your husband accidentally brushes up against you in the grocery store you feign sleep.

When watching an adult film you keep commenting on the plot.

-

You keep getting The Tunnel of Love mixed up with Love Canal and Carpal Tunnel.
By Sharon Grehan-Howes
HW Health Alert: Hidden Household Hazards!

On the day that Myrtle Marquart became a statistic, she never knew what hit her. That fateful morning, her vacuum cleaner malfunctioned, racing out of control when the speed governor failed. If she had reacted differently, Myrtle might have survived, but she failed to let go as the machine quickly accelerated to speeds in excess of 80 miles per hour. By then, it was too late.

Myrtle had become another casualty of an unreported epidemic raging across the country. According to records kept for no particular reason by an obscure government agency, housework kills.
By SB Shoemaker
Everyone wants love; that's no secret. The problem, of course, is finding the right person to share your home and your secret Richard Simmons obsession. Sometimes, though, in the supreme injustice that is life, you DO find Mr. Right -- but he tells you he's married, gay, infected with a pesky VD, or not interested. Take heart - this does not mean that forging a meaningful emotional connection is impossible.Consider stalking him!
By stalking Mr. Right, you can keep him in your sights at all times, getting to know every intimate detail of his life - which is almost as good as being an intimate detail yourself. If you dedicate
yourself to being his personal stalker, you'll have something to do on those lonely winter nights - stare wistfully through his window and name your six unborn children!
But be careful - there are certain points about the fine art of stalking to consider. You want to make sure the stalk is executed effectively, but you don't want to join the Kathy Bates ankle-smashing school of stalking. To keep things in perspective, here's handy list of "Dos and Don'ts" for beginners.
By Amy Krug