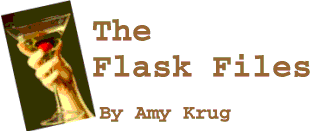 ---
Does Mr. Right = Mr. Wrong? A Checklist
Finally! Your Aunt Gertrude is so thrilled - you have a man to bring with you to family gatherings, book burnings, trailer-warming parties, and the like. He's personable, he doesn't have a mullet or wear fringed leather, and his pesky wife hasn't yet shown up at any of your intimate dinners brandishing a six-foot scythe.
But yet…there are a few things that bother you about him. No man is perfect, for sure - we, of course, tell ourselves we love them as much for their inexplicable love of NASCAR racing as we do for their broad shoulders. But there are a few signals you should be on watch for, signs that your Mr. Right may not be as "right" as you think. Here's a checklist of serious warning signals that should send you cashing in your love-chips and heading for the nearest available convent.
He owns a T-shirt that says "Fat kids are harder to kidnap."
He has binders full of downloaded, badly-written smut stories involving Captain Kirk and Mr. Spock.
.
Featured Cocktail:

The Wrong Stuff (a Flask Files original creation!)
2 shots Triple Sec
1 shot Jagermeister
1 shot Tequila
Splash Diet Mountain Dew
Maraschino Cherries to taste (that is, if you can still taste after downing this concoction)
Also called "The Balm of the Desperate Woman," this drink will curl your nose hairs and permanently erase the lingering stench of that Chanel No. 5.
The alias he uses online looks something like "Talk2MeIfYer13."
"Great Art" to him involves either velvet and Elvis or balding tires and smashed beer cans
His idea of a great birthday gift is a check for $47 and a coupon for a 30% discount at Wig-o-Rama.
When he tells you he enjoys independent film, he is in fact referring to his extensive Girls Gone Wild tape collection.
He has had - or has considered - getting implants in his calves.
Everything he needed to know about growing up he learned from Dee Snyder's Teenage Survival Guide.
Apropos of nothing, he gives you the number - on a laminated card - for his open-ended penicillin prescription, "Just in case you start to feel the burning, too."
His highlights and manicure are better maintained than yours - and he does both himself.


He owns CDs by Ratt, Cannibal Corpse, or any of the American Idol contestants.
He has friends nicknamed named "Bubba," "Biatch," or "Buttmonkey."
The card on the bottle of Chanel No. 5 he gives you reads "I hope you like it - it was mom's favorite.
"He is incapable of having a conversation about medieval literature without making a Monty Python and the Holy Grail reference.
There's something that makes you vaguely uneasy about the way he and his sister constantly wrestle one another, "like we used to in the bathtub together."
He thinks the gods have smiled on him when he realizes Spice channel is discernible through layers of vertical static on channel 79.
He has a room full of "well-loved" stuffed animals - and there are no kids in sight.
He tells you that you're so much better for him than the last girl he dated, because you were postage-free.
Sometimes, even the most perceptive of us can overlook some unsettling warning signals, but when you find that pile of Kirk & Spock porn, grab all your belongings and run like hell. Facing your next family gathering solo is much preferable to having to explain that you'll be missing the barbecue because you have to be a witness in your new beau's latest internet pedophilia hearing. Trust me, Aunt Gertie will understand.
DISCLAIMER: This is a parody of women's magazines so don't come crying to us if you starved to death on one of our diets or you took out your liver by mistake. Unless otherwise noted all material © 2000 - 2018 Sharon Grehan-Howes ( aka Sharon Jeffcock ) Happy Woman Magazine All Rights Reserved
TERMS AND CONDITIONS | PRIVACY POLICY | CONTACT US | SUBMISSION GUIDELINES