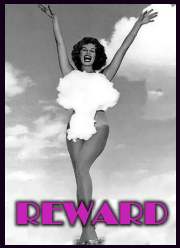 Mags has gone missing
can you help find her?
Mags (Maggie Childes) has disappeared with con artist Xavier Von Krunkle (more information about him here.)
We are offering a $25.00 Amazon Gift Card for information leading to her return and a $10.00 Amazon Gift Card for his capture.
In the June material of HW you will find hidden a picture of Mags (shown in photo above) find it, send us the location and you will be entered into a select draw--she is hard to find so the chances of winning are swell!*
We are also offering a lesser prize for a lesser individual con artist Xavier Von Krunkle. Find the picture of Xavier, hidden in the either May or June's Material (material is Iisted on index page) email us the location and you will be entered to win a $10.00 Amazon Gift Card. (Hint: He is easier to find)
Happy Hunting!
*The pictures above don't count, nor do the pictures on the entry forms clever clogs.
Remember, the more people that enter the less chance you have to win so don't give out hints!
RULES AND REGULATIONS
Contest starts June 8th and ends Noon September 7th EDT. Contest is open to U.S. & Canadian residents, ages 18 and older.
( More official rules below)
Privacy Policy
We will not sell rent or even let someone peek at your email address.
Official rules: To enter, follow the links and completely fill out the form before the contest end date listed above. Entrants will be required to provide their first and last names and a valid email address. All entries must be received by 11:59:59 am ET on the contest end date listed above.

Limit one entry per person per day. Winners will be chosen at random and the judges' decision is final and no correspondence will be entered into. The odds of winning depend upon the number of entries received.

Prizes are not transferable or exchangeable and cannot be taken as cash. All federal, provincial/state and local regulations apply. Internet entry must be made by the entrant only at an authorized web site address. Entries may not be made by any commercial entering service site or via any device to automate entry. Any winner who enters by any such method described will be disqualified and an alternate winner selected. Sponsor reserves the right in its sole discretion to disqualify any entry at any time in the event it is determined that the entrant has not complied with these official rules. Please allow 6-8 weeks for delivery.